Tuesday 4th to Tuesday 11th July 2023
Whether you are a keen walker or prefer to take it easy and soak up the stunning scenery, this cruise takes you north from Oban to wild and remote Wester Ross and westwards to the Outer Isles of Harris and Lewis.
Our thanks to guest Nicola Gibbs for providing many of the words and pictures for this week's cruise log.
Tuesday 4th July
A stunning sunset as we set sail from Oban on Tuesday night bound for our overnight anchorage in Bloody Bay.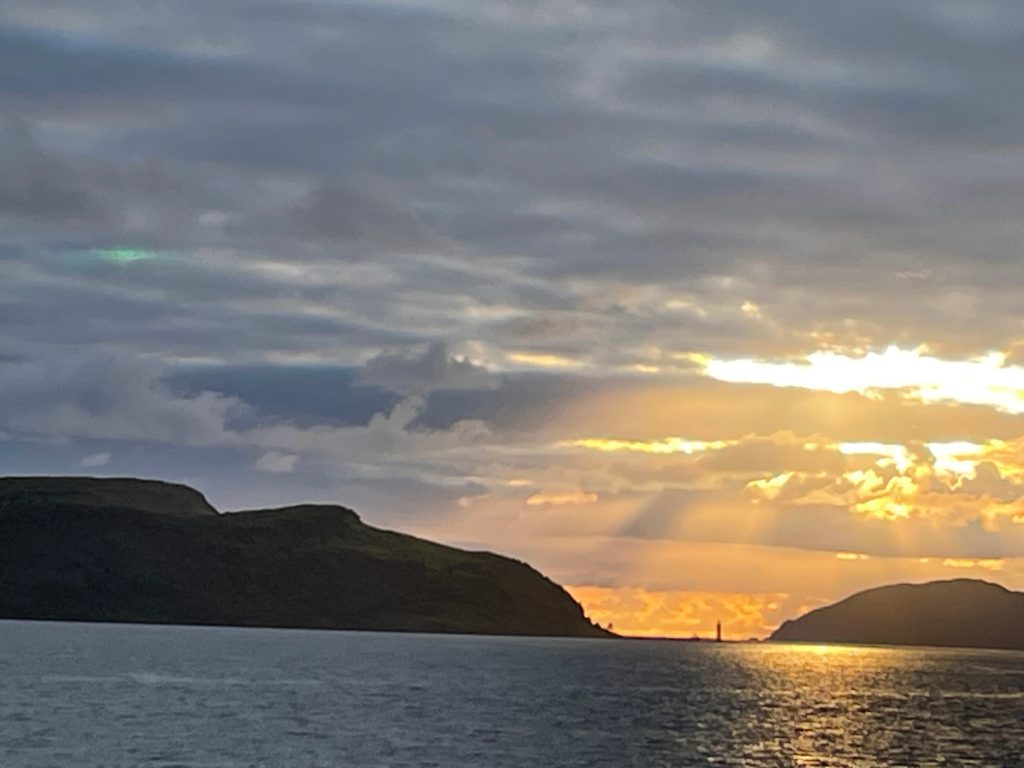 Wednesday 5th July
During breakfast we sailed around Ardnamurchan point on passage to the Isle of Canna where walkers and strollers enjoyed the beautiful coastal views …. And even a refreshing paddle!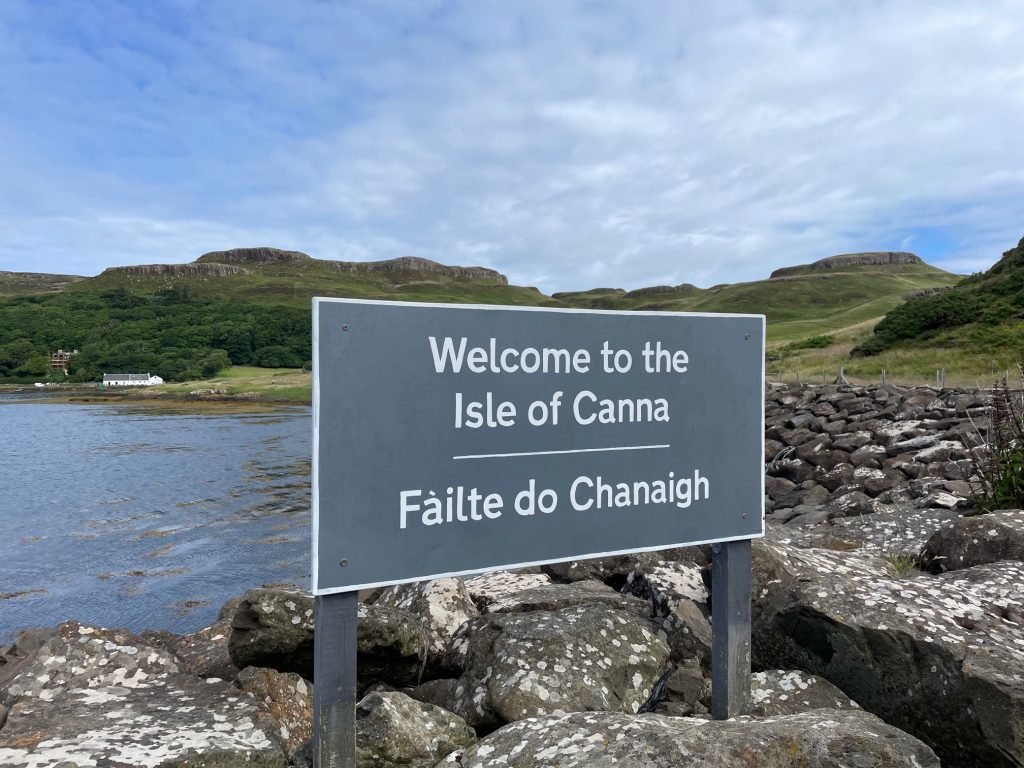 Paddling in turquoise sea from golden sands in Canna was followed by a relaxing afternoon at sea as we sailed for our overnight anchorage at Kyle of Lochalsh. We enjoyed a gala dinner, with after dinner music and dancing in the lounge from local musicians. A wonderful way to round off the day!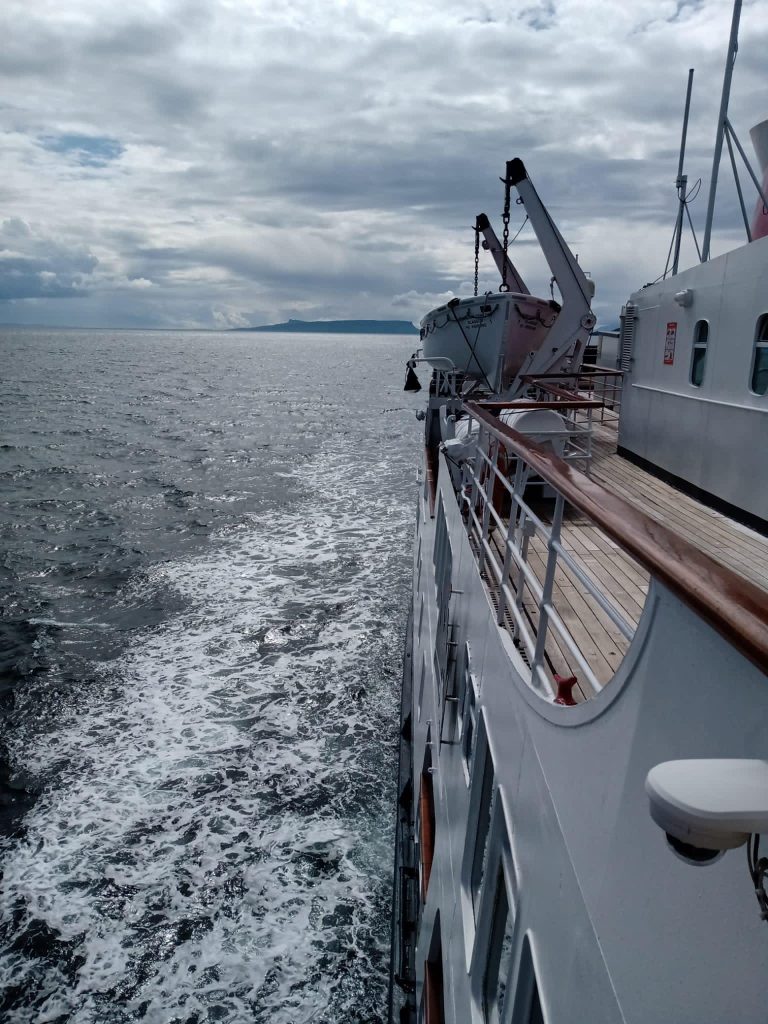 Thursday 6th July
Following our overnight birth at Kyle, walkers and strollers set off by coach. While the strollers enjoyed Eilean Donan Castle, walkers strode out through the Balmacara Estate, taking in the tranquil Loch Scalpaigh and the wonderful displays of flower and bird life before returning to the ship for a magnificent fresh seafood buffet lunch and a relaxing sail to Ullapool for our overnight berth.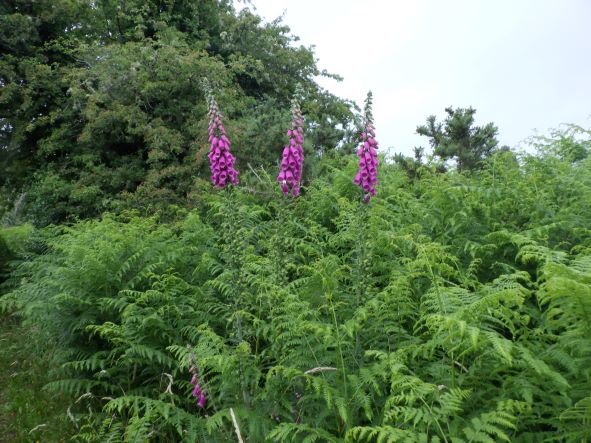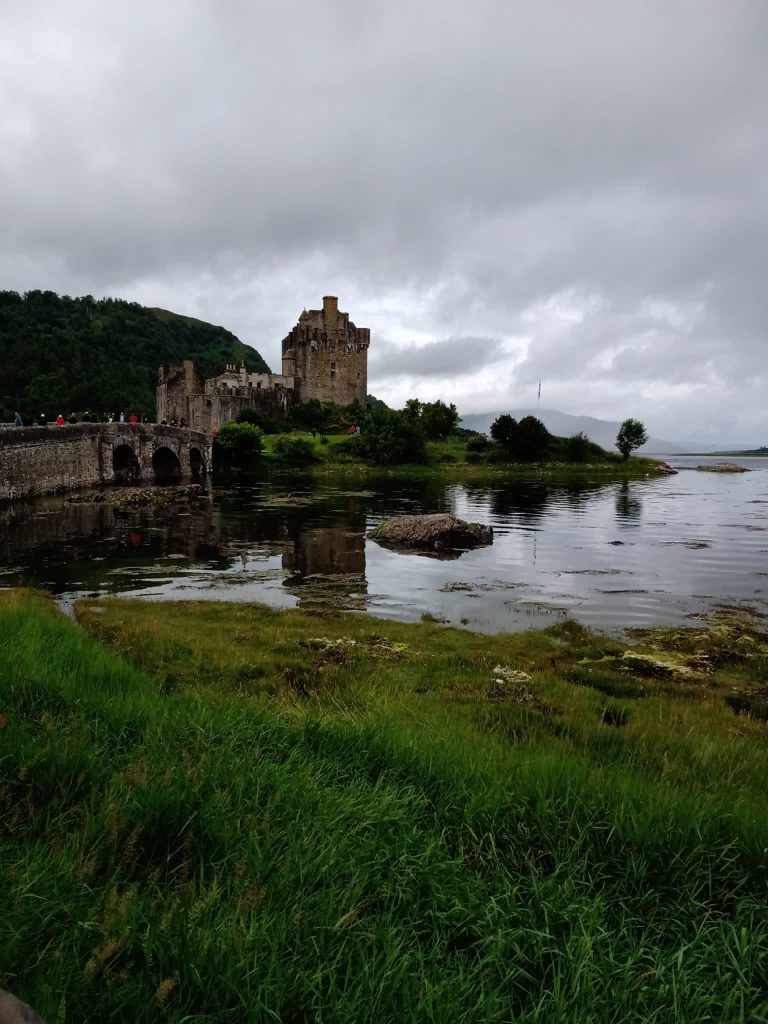 Friday 7th July
From our overnight berth in Ullapool, strollers headed for Corrieshalloch Gorge, while walkers set out by coach, heading firstly for the heights of Knockan Crag, where millions of years of geological have shaped the dramatic landscape – some steep climbs were worth the views!
Onwards after our morning walk to the Bone Caves … a beautiful walk up the limestone valley to see the caves where bones of animals such as lynx, reindeer, polar bears and Arctic fox were once found. A perfect place for a late packed lunch before returning back down the slopes for our final walk of the day – this one a gentle stroll in the late afternoon sunlight to the ruins of Ardvreck Castle on beautiful and wild Loch Assynt. Paddling for some, a chance to relax, and enjoy the views and Eilean Donan Castle for the strollers.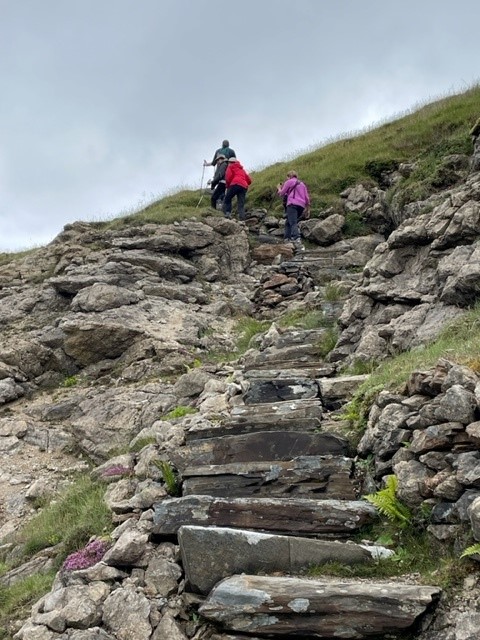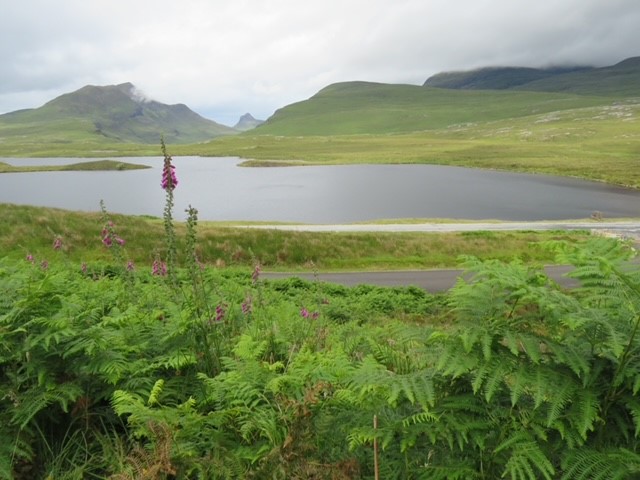 Drinks back on Hebridean Princess' Skye Deck as we crossed The Minch to Lewis completed our day, with sunsets to greet us as we sailed into Stornoway.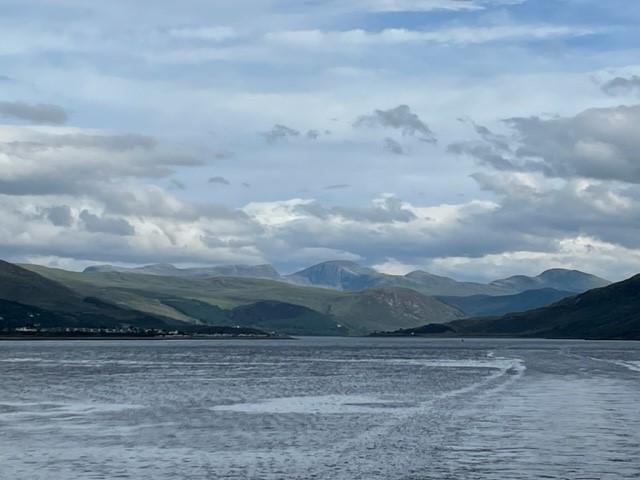 Saturday 8th July
Saturday saw the walkers setting off by coach from Stornoway – this time bound for the black house village of Gearrannan, where our walk started, with a stroll down amongst the houses to the coast path. Wall to wall sunshine and glorious coastal views took us to Dalmore beach where the special treat of a Hebridean picnic awaited us! Paddling and time on the beach was then the order of the day before a return to Stornoway (via the Whalebone arch at Bragar), and a chance for those who wished to visit the poignant memorial to the Iolaire disaster of 1919 where so many service men were drowned so close to home. Our walk back to the Ship took in the memorial path planted with wildflowers and marked with engraved slates for those who lost their lives. Another sunset ended another wonderful day!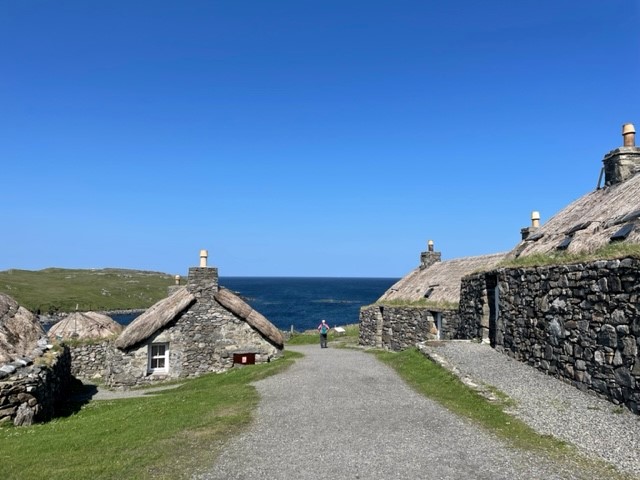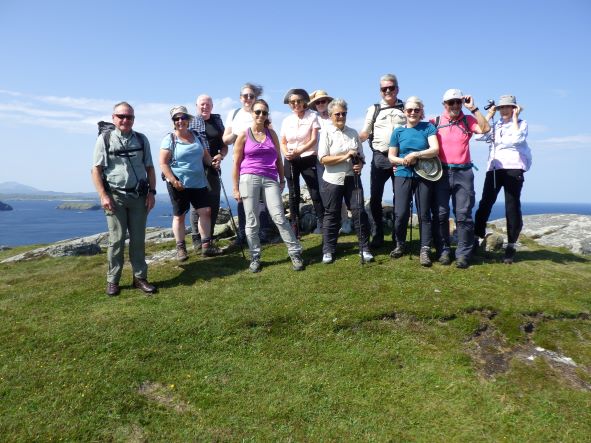 The strollers explored the Callanish Standing Stones and Dun Carloway Broch this morning and Lews Castle Museum this afternoon.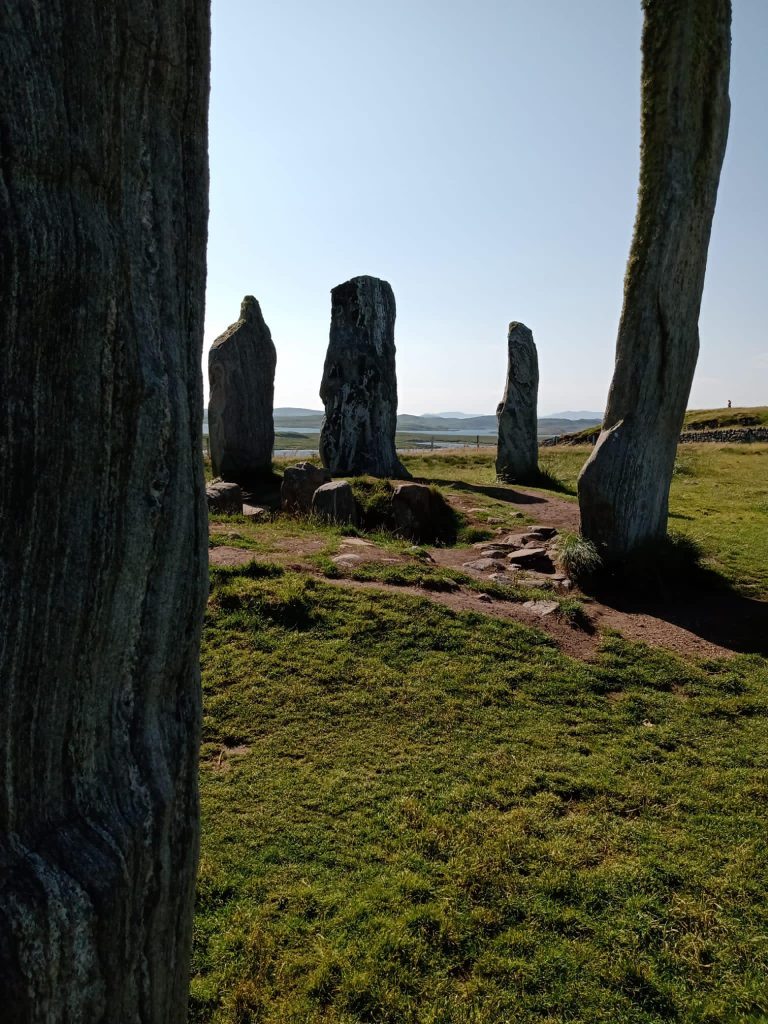 We anchored overnight off Tarbert, Isle of Harris.
Sunday 9th July
After a morning sail southwards (a delicious 'special' for breakfast en-route), strollers set off from our new berth in East Loch Tarbert on Harris for a scenic tour down the west of the island, taking in magnificent views of Luskentyre beach, a visit to the medieval church of St Clement at Rodel, and a gentle wander along the sands and machair at Horgabost beach… dramatic skies showing off the white sands and flowers. Back to the ship to welcome the few brave but weary walkers back from their climb along the Postman's Path before we set sail over lunch for the Shiant Isles.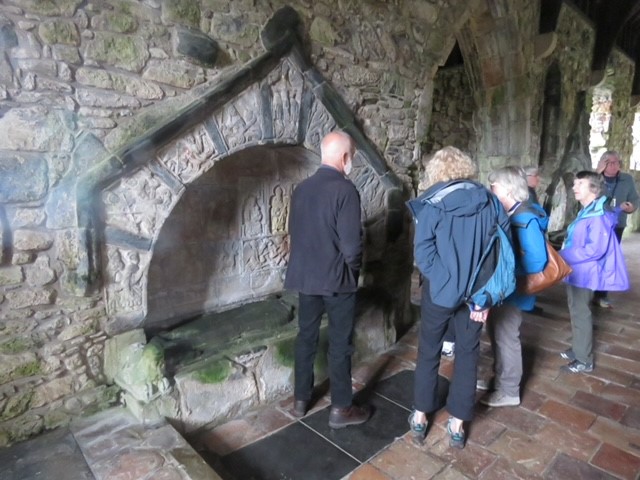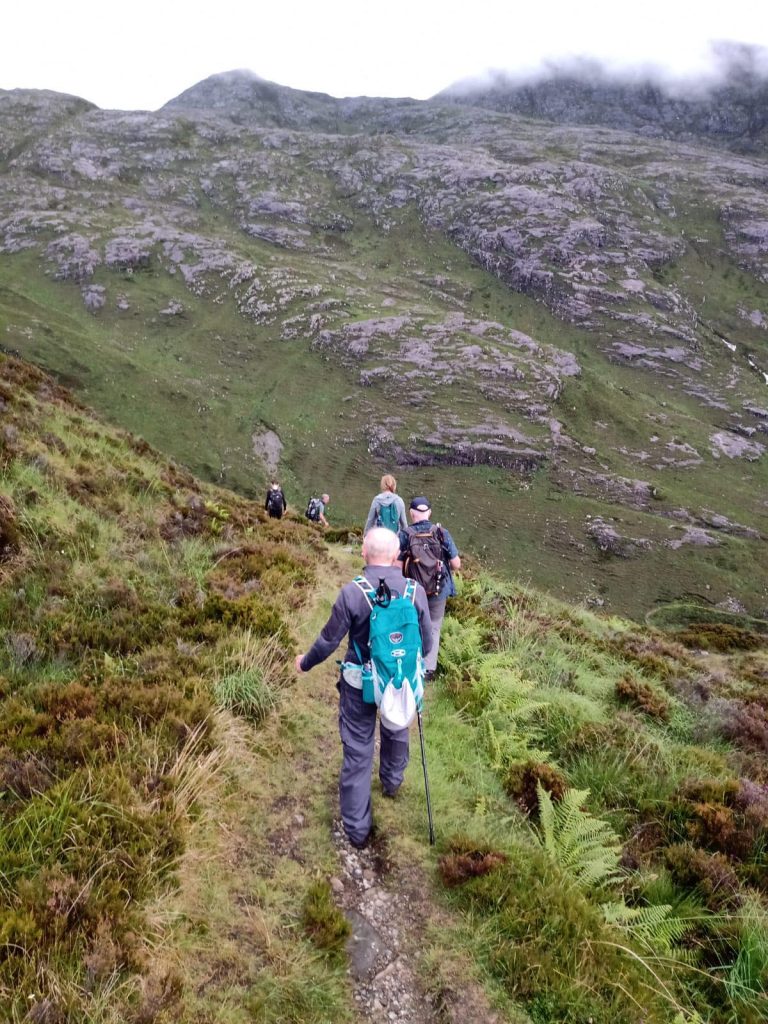 An amazing trip for all to the Shiant Islands in the afternoon … wonderful to blue skies, countless sea-birds, wonderful scenery and a beach landing!!! Razor-bills, puffins, guillimots, skuas, gannets and countless other birds to be seen from land and sea. Guests walked as far as they wished, taking in the views and the wildlife on House Island before enjoying our best sunset yet as we sailed south.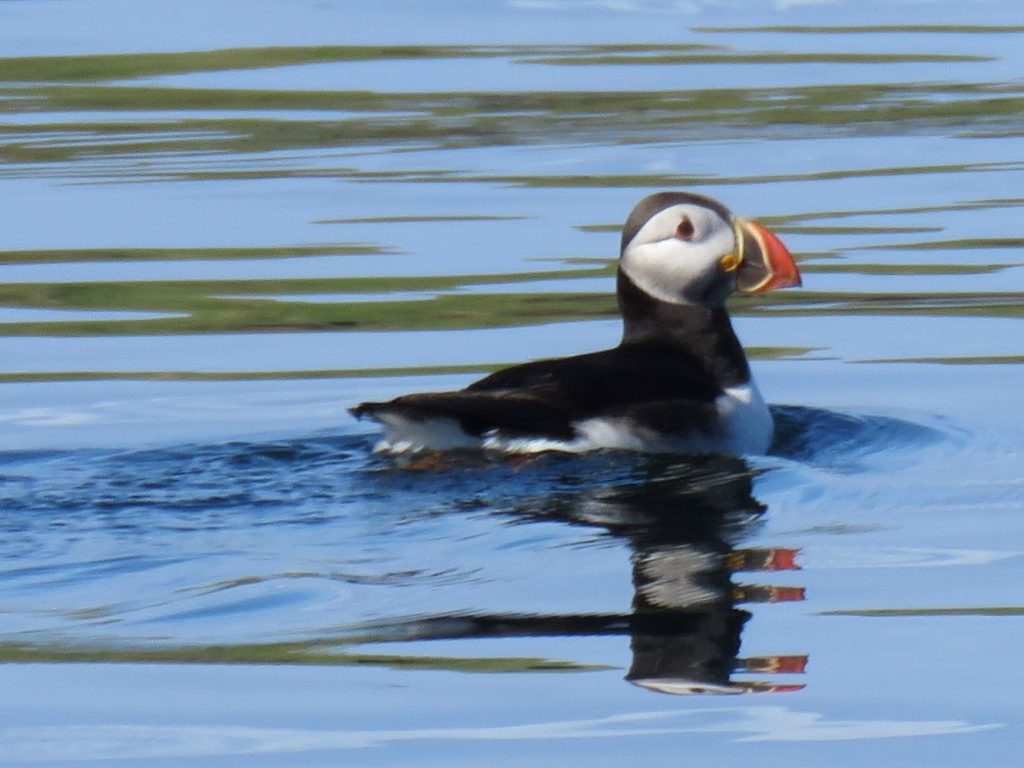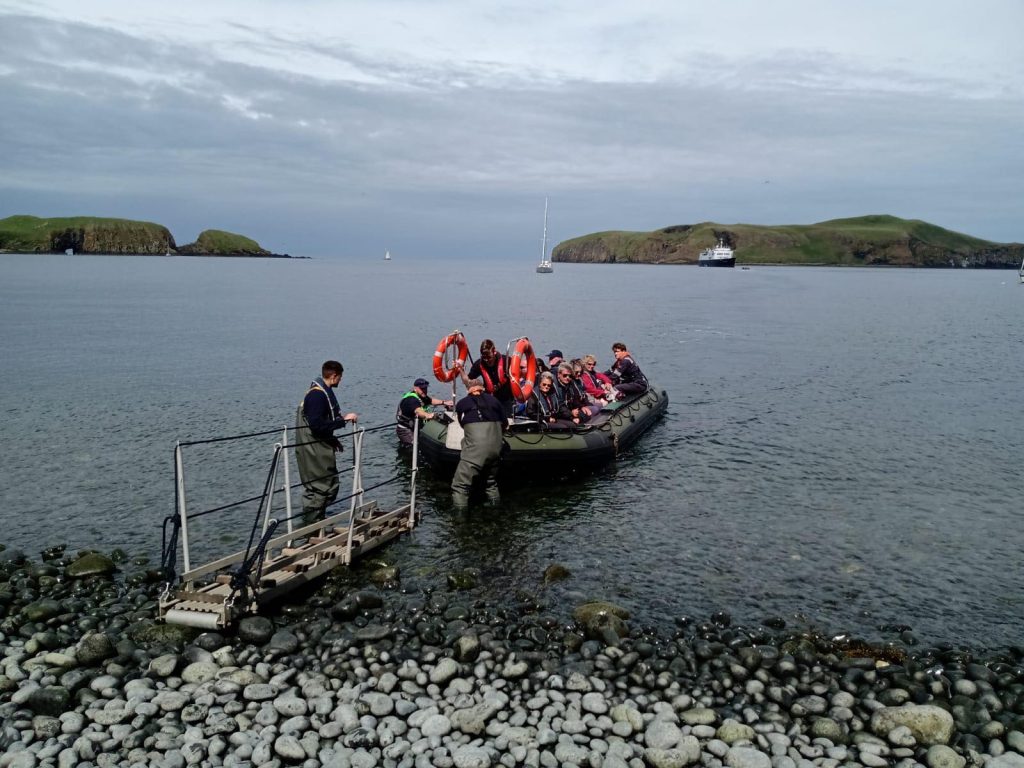 In the late afternoon we set sail on passage towards our overnight anchorage in Loch Scresort off the Isle of Rum.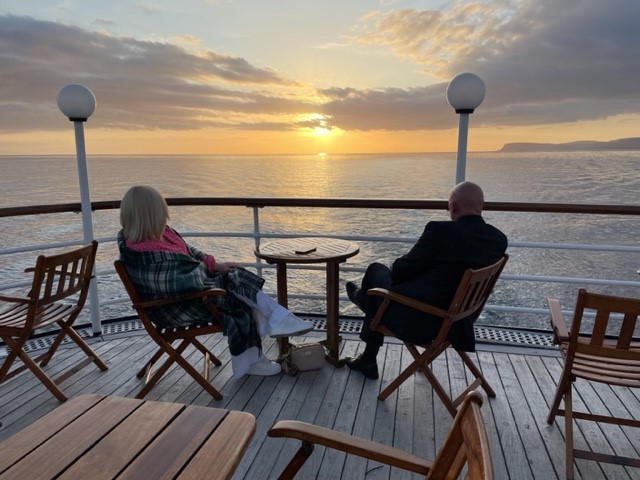 Monday 10th July
Monday gave us a magical morning on Muck … lush views stretching out to the other Small Isles, close encounters with the farm animals on the island (and seals galore), white beaches, more opportunities for paddling, or sampling the cake on the local café… and more sunshine!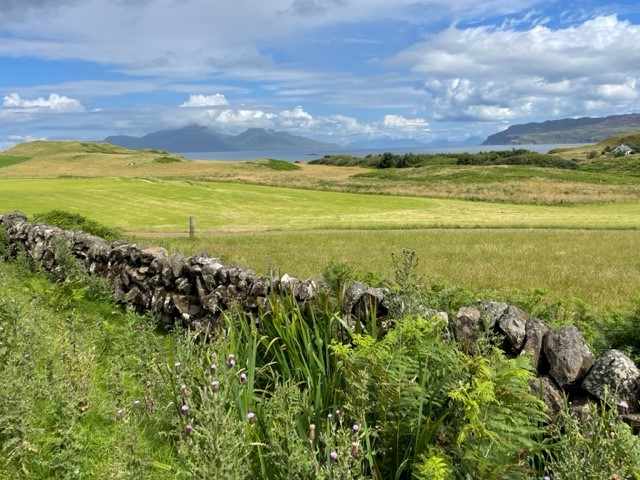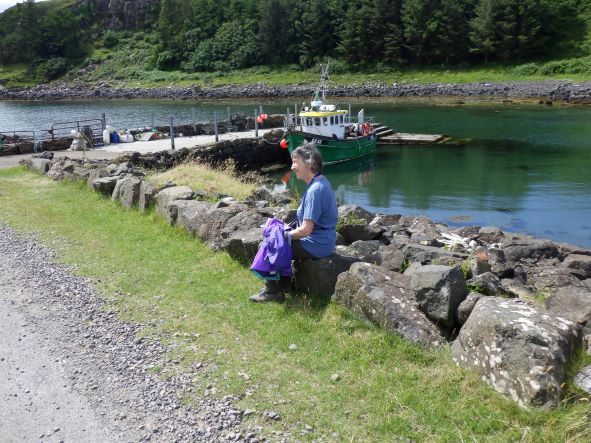 As we sailed over lunch we were treated to a spectacular dolphin display within yards of the Ship to round the visit off. An afternoon sail took us to Charlotte Bay off Kerrera where we anchored for our final Gala Dinner.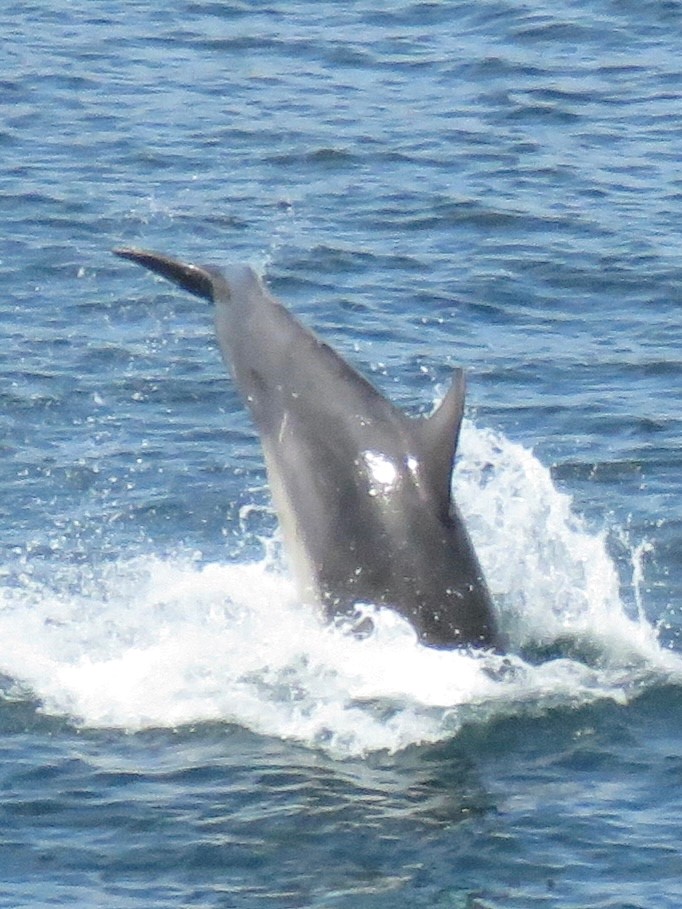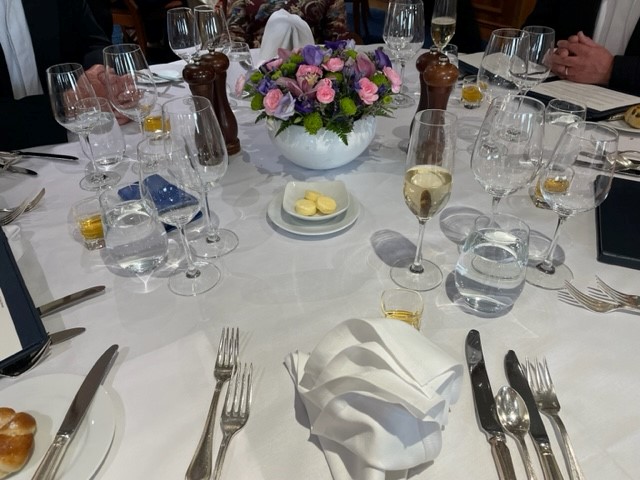 Tuesday 11th July
The Captain, Officers and crew waved farewell to our guests as they disembarked in Oban after breakfast.
You may also be interested in...