Delicious cuisine on Royal Crown all-inclusive cruises
Dining is a major element on any cruise and Royal Crown chefs create imaginative menus with a dedicated passion and quality ingredients. Every itinerary includes two sumptuous gala dinners, these are sparkling affairs with a real Scottish flavour. Breakfast, lunch and dinner are served in the elegant restaurant which delivers a mix of British and European cuisine. The Head Chef, together with his team, has worked closely with Hebridean River Cruises to produce the highest standard of menu choices, using some of the finest and freshest ingredients available.
Book Now

Request a call back

All-inclusive fine dining
Royal Crown cruises are all-inclusive, this encompasses all meals and drinks. Complement your meal with specially selected wines of the day and enjoy other house wines and spirits, beers and soft drinks at no extra charge. Taitting Champagne is also included by the glass, as is our hand-picked selection of fine blended and malt whiskies. Wherever you choose to cruise, experience delicious Royal Crown cuisine.
Reviews...
Pure luxury! We were pampered and cosseted by the staff, crew and officers from start to finish. All the passengers were friendly and I just can't find one complaint about anything. It was a marvellous 7 days.
See more
fine dining ...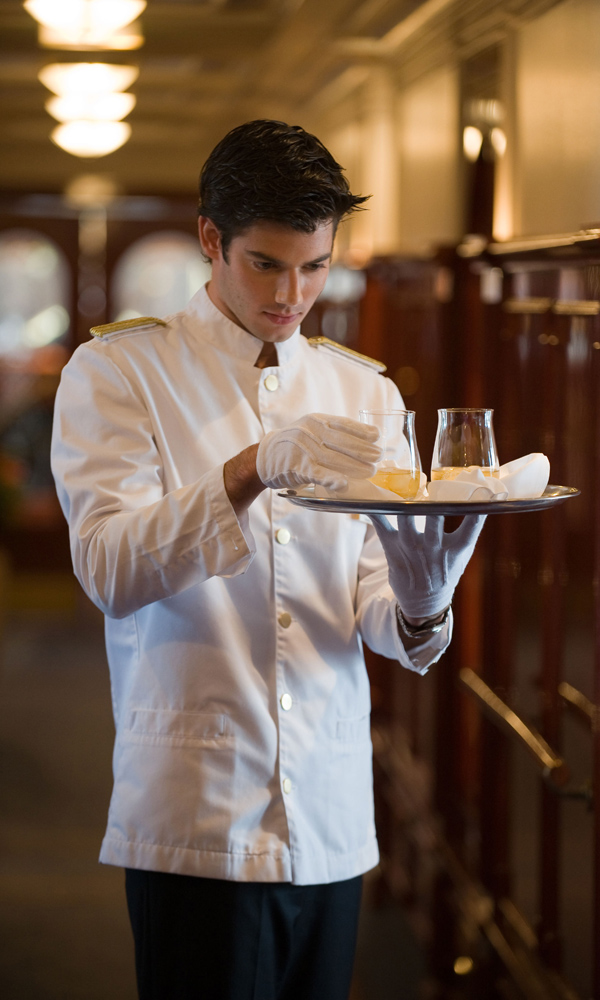 Fine cuisine on every voyage
Buffet breakfasts offer a large selection of continental and cooked items, including eggs of your choice cooked to order in the restaurant. For early risers, tea and coffee are available in the lounge prior to breakfast.
Lunch varies depending on the day's activities and offers a mix of buffet style and full-service four-course meals.
Evening dinner is a full service, banquet-style five-course meal. On the final Gala Evening, no Hebridean river cruise would be complete without a traditional recital of Robert Burns' Address to a Haggis! This makes dining on a European river cruise a real Hebridean experience! Seating is with fellow passengers at tables of between six and eight.

relaxed experience ...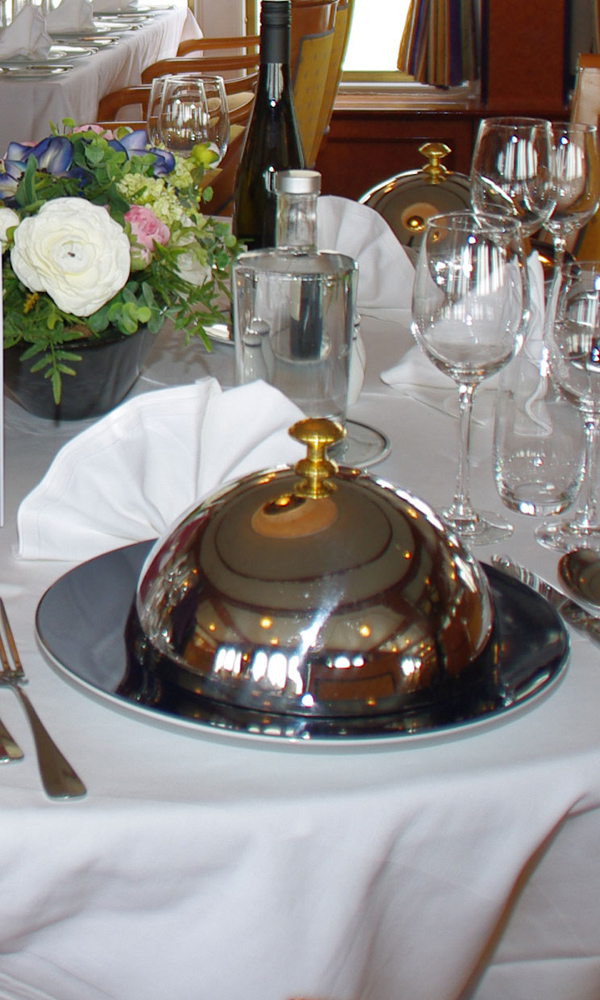 Food for the soul
Everything on board is hand-picked to ensure freshness, quality and perfection. Food and drink are an important element of any cruise.
All meals and snacks on board and ashore are included, as shown in the itineraries. Selected wines of the day, all other house wines and spirits, beers, soft drinks and tea, coffee and other hot drinks. Champagne and a hand-picked selection of Scottish whiskies are brought in from Hebridean Princess.
Please let us know in advance of any specific allergies or requirements. Royal Crown chefs aim to ensure every guest receives the highest standard of cuisine.


Book a European river cruise
All-inclusive, all delicious
Book an all-inclusive European river cruise on Royal Crown and start looking forward to very special holiday. If you have any questions or special requirements regarding our menus, then please just get in touch.