Lord of the Highlands' Cruise Ship Restaurant
The elegant Caledonian Restaurant on Lord of the Highlands takes guests on a culinary journey. Using only the freshest and finest ingredients, our talented and creative chefs expertly prepare each dish to tantalise the taste buds. Whether cruising individually or as a group, this is an invitation to dine among friends. Independent travellers are seated with fellow guests in a relaxed and informal atmosphere. Where sparkling glass and fine china complement the excellent cuisine and all-round picture windows mean you will never miss the view.
Book Now

Request a call back

All-inclusive cruise dining
Lord of the Highlands cruises are fully-inclusive, which means that all food and drinks are included in the fare. Food is complemented with specially selected wines of the day, house wines and spirits, soft drinks and beers, tea and coffee. Taittinger Champagne is also included by the glass.
Reviews...
A truly outstanding experience and we will make sure we spread the word about how great Hebridean is.
See more
Dining and Cuisine

Breakfast, lunch, dinner and afternoon tea
Breakfast, lunch and dinner are served in the picture windowed Caledonian Restaurant. Breakfasts are informal and are as healthy or as hearty as you choose. With fresh fruit, cooked Scottish fayre and of course, Chef's own take on that Scottish staple (porridge), with or without a wee dram! Lunch varies, depending on the day's activities, and our dedicated crew is ever-present to attend to your every need. In the evening, dinner is a full service, banquet-style, three course meal with coffee and petit fours.
Our delicious afternoon teas are served in the comfort of the lounge with views across the forward viewing deck.

onboard dining ...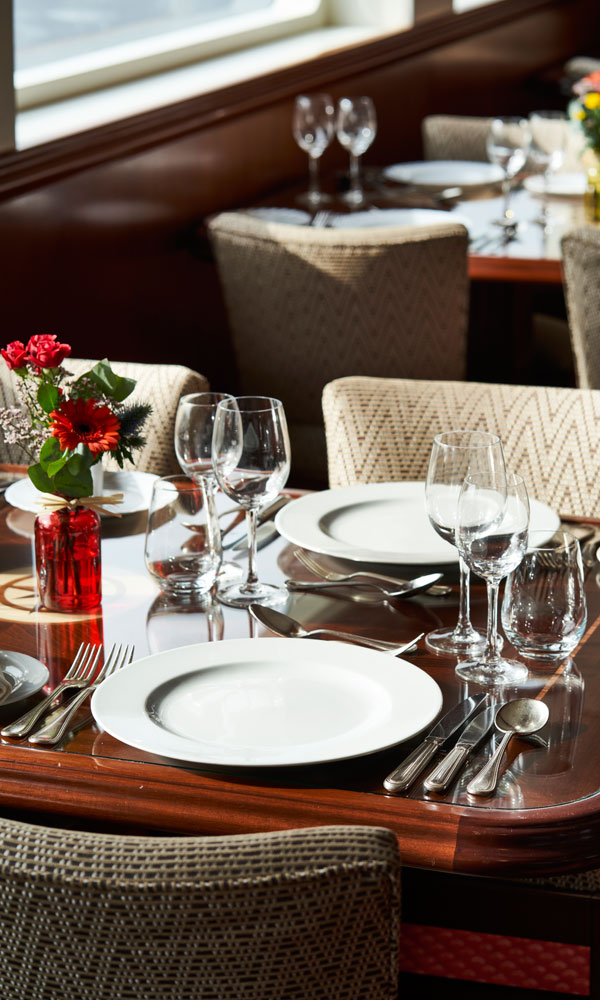 Glittering Gala Dinners
Lord of the Highlands' Gala Dinners are sparkling occasions, from the Champagne reception in the lounge to a gourmet dinner – and no cruise would be complete without a traditional recital of Robert Burns' Address to a Haggis! This tradition is a glamorous highlight of the cruise experience. A fun-filled evening of exquisite food and wine and excellent company.
With an ever-changing menu, dining on board Lord of the Highlands is a sensational feast. Our talented and dedicated chefs use only the freshest, locally sourced ingredients allowing the creation of the most delectable dishes. So, book your next luxury cruise with Hebridean Island Cruises and experience the very best in hospitality and dining.