A Belmond Royal Scotsman and Hebridean Princess Experience
Travel with sophistication on one of Scotland's most beautiful and elegant trains. Hebridean Princess and Belmond Royal Scotsman together offer the ultimate luxury tour of Scotland. Combine an unforgettable train journey on the Royal Scotsman and a stay in Edinburgh at the 5-star Balmoral Hotel (where required) before embarking on a luxury cruise with Hebridean Princess. Guests can also enjoy a chauffeur-driven transfer to or from the Balmoral Hotel or Hebridean's courtesy coach, on the day of cruise embarkation or disembarkation.
Book Now

Request a call back

Be inspired by Scottish landscapes
Graceful and intimate, the Royal Scotsman cuts a grand swathe through the Scottish countryside. It is the height of luxury train travel – opulent carriages, first-class service and landscapes that have inspired artists throughout the centuries. This, combined with a boutique cruise on the elegant Hebridean Princess, visiting Scotland's spectacular Highlands and islands, creates a truly unforgettable experience.
Reviews...
Utterly captivating. The staff are superb, the food excellent and we thoroughly enjoyed all the shore visits. We have had our first experience of HP, it won't be our last! Many, many thanks.
See more
spectacular scenery ...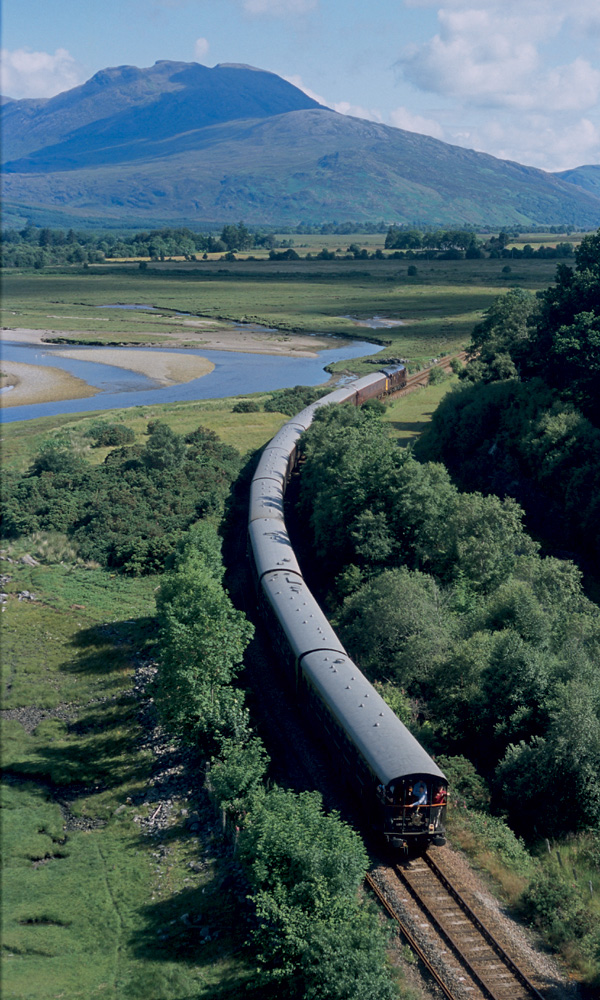 Luxury Train Experience
The Royal Scotsman embarks from Edinburgh on a 2 to 4 night adventure through the Scottish Highlands. There is excellent attention to detail paid to every part of the train throughout its ten stunning carriages. Only 40 guests travel through Scotland's finest countryside in its private cabins at any one time. This is what ensures the train crew can offer personal and undivided attention.
There are glorious views from every window. But to get really close to the scenery and feel the bracing air, head to the open deck observation carriage. Find a sofa or armchair and watch the Highland glens and villages race by. With a coffee or a dram of whisky in hand, this is the perfect way to spend time with friends, family and new acquaintances.

relaxed and indulgent ...

Elegant Island Cruise
The next part of the journey is by sea, on Hebridean Princess. Step on board and embark on a cruise taking in the rich splendour of the Scottish Highlands and islands. From the grandeur of towering mountains to relaxing lapping of waves on pristine beaches, our Scottish cruises offer a picture-perfect tour of some of Scotland's finest scenery.
Exploring Scotland's most remote scenery from a resplendent cruise ship surrounded by opulence is an experience never to forget. The rich culture, an abundance of wildlife and world-famous views combine with five-star service to deliver a very special Scottish cruise.


Belmond Royal Scotsman and Hebridean Princess Packages
Find the best journey for you
Packages include: 2, 3 or 4 nights on the Royal Scotsman train, as specified. Post train journey accommodation at the 5-star Balmoral Hotel, Edinburgh on a bed and breakfast basis.* A chauffeur-driven transfer from the Balmoral Hotel to Hebridean's courtesy coach on the day of cruise embarkation. A multi-night cruise on Hebridean Princess. All meals, drinks, visits and entertainment on both the Royal Scotsman and Hebridean Princess.
*Please note: some journeys do not require accommodation between the end of the train journey and start of the cruise.
For more information on Hebridean Princess and Belmond Royal Scotsman combined luxury cruises and rail journeys, please call 01756 704704 to speak to one of our friendly representatives.