Take a Cruise on Hebridean Princess
Welcome to the small luxury cruise ship, Hebridean Princess. Purpose-built for Scotland's Western Isles, she was launched as a cruise ship by Hebridean Island Cruises in 1989. Sailing mainly from her home port of Oban, Hebridean Princess glides serenely through the water. Her small size means she has access to the remotest islands, lochs and bays beyond the reach of larger vessels. Hebridean Princess perfectly complements the wildly beautiful Scottish scenery. Carrying a maximum of 48 passengers, fellow guests soon become friends. Cruise the Hebrides in unrivalled comfort with the refined service of a floating country house.
Book Now

Request a call back

Home-from-home
The on board welcome is always warm, where the congenial atmosphere of a country house party is abound. Here, old friends unite and new acquaintances are quickly made. The unaccompanied need never feel alone. At the same time, guests are free to enjoy the luxury of their own private space whenever they choose.
Reviews...
The staff on board the Royal Crown made the cruise. Evening entertainment was very good, David and his team did a great job. The music recitals were excellent both on board and ashore.
See more
understated elegance ...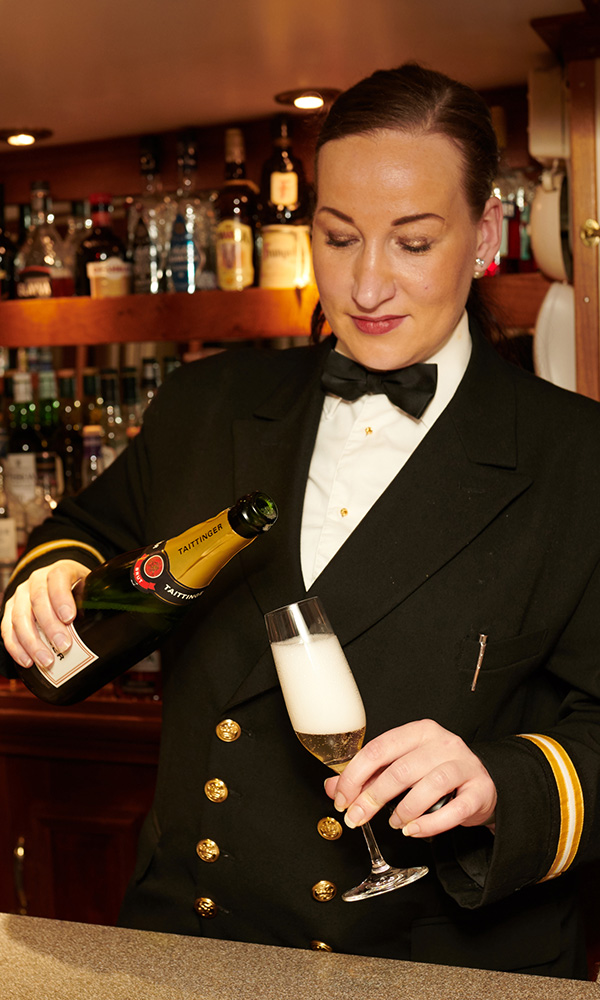 The personal touch
An understated elegance pervades throughout the entire ship with a carefully chosen décor of co-ordinating furnishings, fabrics and colours. The ambience on board Hebridean Princess is redolent of a bygone era. From the Tiree Lounge to the Columba Restaurant and the 28 spacious and individually designed cabins, to the sparkling brass and teak deck. Discover peaceful corners, perfect for reading, or relax by the cosy inglenook style fireplace in the lounge. There are plenty of areas in which guests can find a perfect hideaway.
Our crew-to-guest ratio of almost one-to-one ensures exceptionally high standards. This offers an unobtrusive and friendly service. It's the personal touch and constant attention to detail that sets the five-star Hebridean Princess apart from other cruise ships.

special occassions ...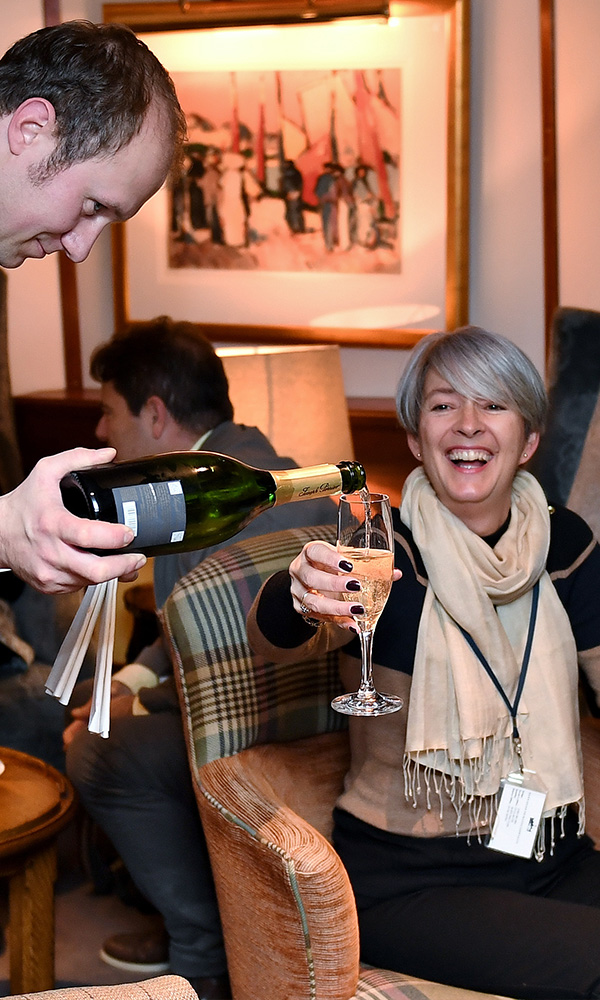 Celebrate in style
The crew of Hebridean Princess are only too happy to help guests who plan to mark a special occasion on board, such as a wedding anniversary or birthday. We can arrange for Champagne, a cake or canapés, to enjoy in private cabins or in the Library.
Celebrate these happy moments in true Hebridean style. Guests who would like to arrange an event should place a special request through our reservations staff.
Alternatively, enjoy the ultimate private party afloat and charter Hebridean Princess for up to 48 guests. This could be, for example, a retirement party, birthday or anniversary celebration.


Everything you need on an all-inclusive Hebridean Princess cruise
Here's what's included
Meals and drinks
All meals are included. This includes both on board and ashore, and all snacks and picnics. Fresh fruit from baskets around the ship. Champagne, wines (excluding those from the Premium Wine Library range). Plus, beers, spirits, soft drinks, tea, coffee and other hot drinks.
Guides and guest speakers
Knowledgeable guides accompany all cruises, both on board and on the tours ashore. Footloose walking itineraries include three experienced guides. Also, selected cruises feature guest speakers.
Shore visits
The entrance fees to all castles, gardens and other places of interest on our cruises are included. Also, as transfers between the ship and each destination ashore, as shown in the itineraries.
Bicycles
Guests can make use of the ship's bicycles to explore ashore.
Internet
Free use of the internet including Wi-Fi access.
Transfers and car parking
Travel to and from the local airport or railway station to and from Hebridean Princess is included. Also, secure car parking is provided at the port (with the exception of London).
Extra activities
Hebridean cruises can be made even more enjoyable with fishing trips and speedboat rides. Hebridean Cruises staff will arrange extra activities by request at no extra charge.
Port taxes
All pier and harbour dues.
Gratuities
Finally, Hebridean operates a strict 'no tipping' policy.
Not included
Travel to and from our private coach transfer points. Wines and spirits from the Premium Wine Library range. Any private shore visits organised by request which are not part of the cruise itinerary. Personal telephone calls. Items purchased from the Hebridean Princess shop. Personal laundry.

And there is more...
Belmond Royal Scotsman Experience
Guests who are looking for the ultimate tour of Scotland can extend their cruise with a journey on the luxurious Belmond Royal Scotsman train on a Belmond Royal Scotsman experience.
Cruise the Hebridean Islands with family and friends
Many guests invite family and friends to join them on board Hebridean Princess. In short, it's the ultimate cruising experience and a great chance to relax and catch-up with friends and family.
Going ashore
Hebridean Princess is only occasionally alongside and often anchors offshore. Her two small boats regularly make landings. Named after two west coast islands, Shona and Sanda, they regularly make landings for guests.
Our able-bodied seamen man these boats. They are always ready to offer a friendly word of reassurance and a steadying hand. Above all, they are only too happy to help guests get ashore and back again.
Cruise Guides
A highly knowledgeable and experienced guide will accompany guests on visits ashore. On Footloose walking itineraries, there will be three guides. This includes exploring remote islands on cruises to St. Kilda, viewing historic sites or simply taking in the magnificent scenery. Guests will soon appreciate their knowledge and insight into the spectacular areas through which Hebridean Princess cruises.
The guide's after-dinner talk is a convivial get-together in the Tiree Lounge. So this is an ideal opportunity to relax over a coffee or digestif and learn more of the tantalising places to come.
The Arts Society
Hebridean Island Cruises is pleased to be associated with The Arts Society. This is a prestigious association which has great synergies with Hebridean. Members are entitled to a 5% saving on any Hebridean Princess or Lord of the Highlands*. So by booking a Hebridean Cruise through this offer, guests will be helping to support The Arts Society.
*Cannot be used with any other offers.
PoB Hotels
Hebridean Princess is proud to be a member of PoB Hotels, a collection of carefully curated rooms, the finest restaurants and spas, and the most authentic regional experiences across the British Isles.
PoB Hotels only invite the very best independent hotels to join their collection – but there's much more to it than that. Think of PoB Hotels as the key and each hotel as a door to new experiences. Each completely unique. Each hand-picked. Each the Pride of Britain.
Established in 1982 by a group of 12 passionate hoteliers, PoB Hotels today has grown to over 50 city-based, countryside and coastal locations. The essence of PoB Hotels is built on its British heritage, honouring provenance and sincere, authentic service. They love the independent nature and unique culture at each property. What ties the hotels together is not being the same but celebrating individuality with a common vision- offering guests the best experiences.
They're all about pairing each guest with an experience that's extraordinary and unique, so all members are inspected annually to ensure they live up to the PoB standard. Plus, admission of new members is subject to successfully passing an anonymous overnight inspection and a ballot of the membership.
In 2022, PoB Hotels partnered with EarthCheck, the leading global sustainability certification programme. This step formalises an ongoing commitment to responsible travel and an effort to promote sustainable practices across its collection.
Luxury Scotland
Luxury Scotland has curated the very best of Scottish hospitality and adventure for those who desire the finest experiences in life.
They represent a collection of more than 30 hotels and exclusive use experiences, from impressive estates in the Highlands to five-star city hotels with attitude and pace; castles with romance and passion to world-class cruise ships and the ultimate train journey across Scotland.
Each of our hotels offers guests something completely unique, with the guarantee of a five-star experience, every single time.
Book a Hebridean Islands Cruise and explore Scotland with Hebridean Princess
For anyone looking for boutique all-inclusive cruises from Scotland, then joining a Hebridean Princess cruise is the perfect choice. Our luxury service, stunning ship and welcoming atmosphere make our cruises perfect for solo travellers, couples and groups.