Wildlife of the Western Isles
Oban to Oban
Tuesday 10th May to Tuesday 17th May 2022
From £4,990 per person
7 nights including
2 Gala Dinners
The Hebrides are the perfect destination for a truly memorable wildlife cruise. Wildlife watching in the Hebrides offers a glimpse into a time almost forgotten by the rest of the world, where the white-tailed eagle soars over the rugged coastline as red deer roam proudly over the peaty moorlands and otters swim in the many sea loch.
Book this cruise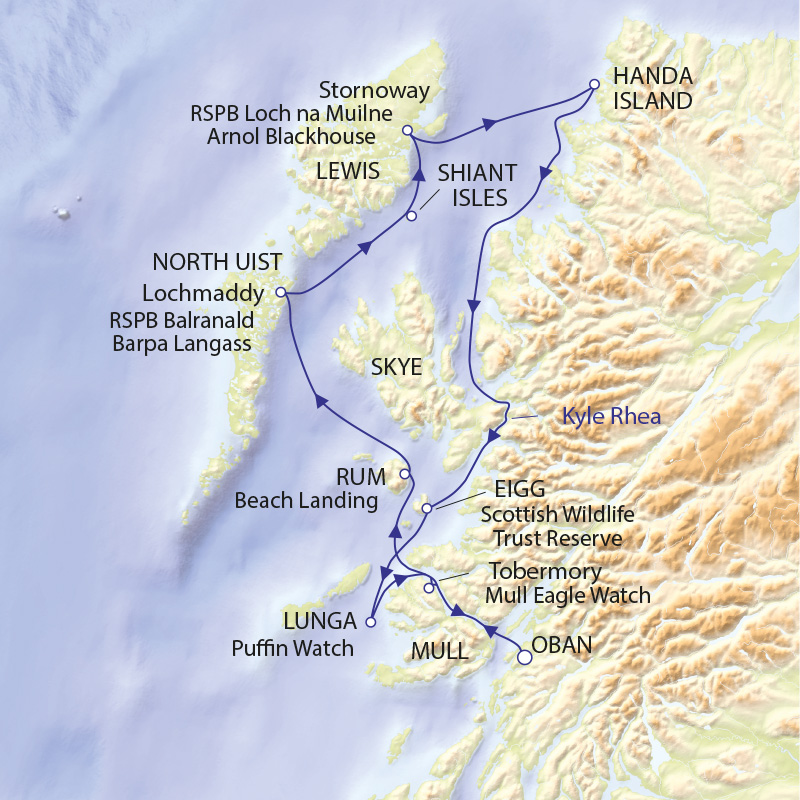 Itinerary
Decks & Cabins
Contact Us
See our itinerary below...
Below you can explore the itinerary for this cruise. Click on the arrows to see more information on each days itinerary. Simply click the 'Book this Cruise' button to get booking and embark on an exciting journey with us.
GUEST SPEAKER: Guest Speaker – Roger Morgan-Grenville

Roger Morgan-Grenville has been a soldier, trader, charity worker and conservationist with a lifelong passion for seabirds. His very personal memoir of a life spent following the Manx Shearwater is published in April 2021. Whilst a soldier, he led the first expedition that followed Ernest Shackleton's escape from the ice across South Georgia. In 2008, he was a founding member of Help for Heroes, and has recently helped set up another charity, Curlew Action. A passionate supporter of the idea of wilderness, he is a highly amusing and informative speaker, with an infectious and wide-ranging enthusiasm for nature.
Our decks and Cabins
Below you can see our decks and what cabins are on each of them. If you click the arrow you can see further information on each cabin and what it has to offer. So get exploring and get booking. We look forward to you joining us on board for an experience of a lifetime…
CONTACT US
Please feel free to get in touch with us if you have any queries regarding our Cruise or booking. We would be delighted to hear from you and help you on your way to enjoying a wonderful cruise with us...