St Kilda & Scotland's Remote Archipelagos
Oban to Oban
Tuesday 6th June to Tuesday 13th June 2023
From £6,130 per person
7 nights including
2 Gala Dinners
The remote bird archipelago of St Kilda was settled in early prehistoric time, until its hardy residents evacuated in 1930, never to return. Experience their legacy from Hebridean Princess, cruising the Inner and Outer Hebrides, with a call at the magical bird paradise of the Shiant Isles, on this voyage to remember.
Book this cruise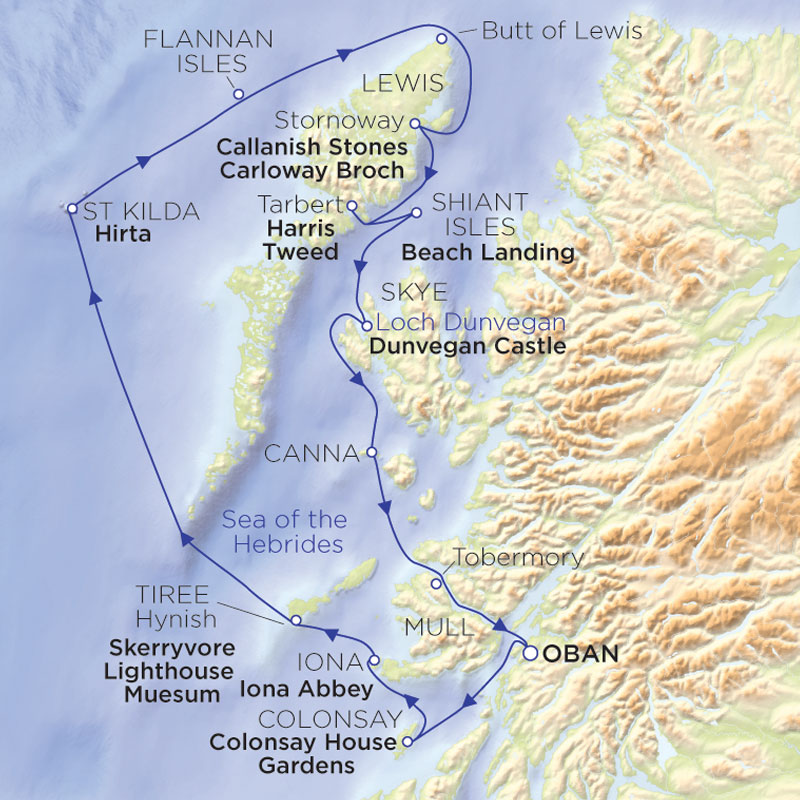 Itinerary
Decks & Cabins
Contact Us
See our itinerary below...
Guest Speaker Amelia Dalton
Amelia Dalton is an author and one of travel's aficionados. Her best-selling book Mistress and Commander, is a lively account of the pitfalls and triumphs of an English, middle class girl amongst the colourful, chauvinistic fishing communities of the Hebrides. She has spoken at Literary Festivals from Scotland to Cornwall, appeared on Saturday Live, BBC World Service and Radio Scotland. In addition to writing, she uses her hard-won marine skills creating specialist expeditions world-wide for charities such as Durrell Conservation Trust and is also a keen naturalist.
Below you can explore the itinerary for this cruise. Click on the arrows to see more information on each days itinerary. Simply click the 'Book this Cruise' button to get booking and embark on an exciting journey with us…
Our decks and Cabins
Below you can see our decks and what cabins are on each of them. If you click the arrow you can see further information on each cabin and what it has to offer. So get exploring and get booking. We look forward to you joining us on board for an experience of a lifetime…
CONTACT US
Please feel free to get in touch with us if you have any queries regarding our Cruise or booking. We would be delighted to hear from you and help you on your way to enjoying a wonderful cruise with us...