Scenic Sea Lochs and Idyllic Inner Isles
Oban to Oban
Tuesday 22nd March to Tuesday 29th March 2022
From £3,100 per person
7 nights including
2 Gala Dinners
As we set sail from Oban for the first time in 2022, we enjoy the contrasts of wild, untamed beinns and glens with the gentle beauty of picture postcard villages, diverse islands and scenic lochs as they awaken in spring. Why not join us on a voyage of discovery through this little-known world aboard the unique, small luxury cruise ship, Hebridean Princess?
Book this cruise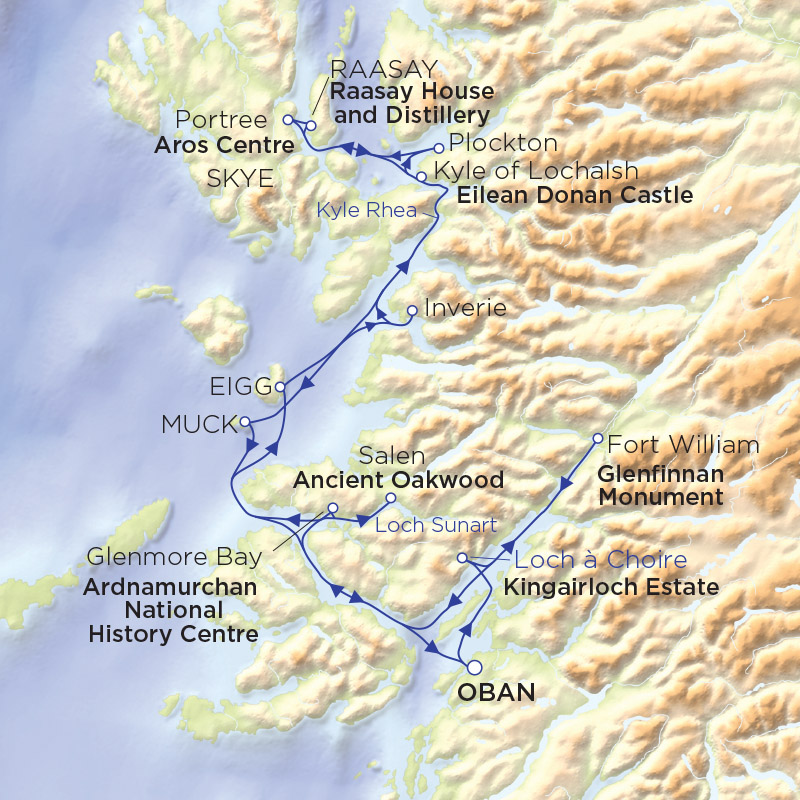 Itinerary
Decks & Cabins
Contact Us
See our itinerary below...
Below you can explore the itinerary for this cruise. Click on the arrows to see more information on each days itinerary. Simply click the 'Book this Cruise' button to get booking and embark on an exciting journey with us…
Guest Speaker Dr Simon Drake
Simon Drake is a research associate at Birkbeck College, University of London where he studies ancient Hebridean volcanic rocks. In 2015 volcanic research took a twist when he discovered a layer of rock on the Isle of Skye containing minerals never before found on earth. The layer was produced by a meteorite strike. This discovery marks only the second confirmed UK meteorite impact layer and has received considerable national and international media attention. Simon's team are currently targeting Skye, Rum, Raasay, Mull, Ardnamurchan and Eigg to try and find further deposits and locate a meteorite crater.
Our decks and Cabins
Below you can see our decks and what cabins are on each of them. If you click the arrow you can see further information on each cabin and what it has to offer. So get exploring and get booking. We look forward to you joining us on board for an experience of a lifetime…
CONTACT US
Please feel free to get in touch with us if you have any queries regarding our Cruise or booking. We would be delighted to hear from you and help you on your way to enjoying a wonderful cruise with us...