Mansions and Castles of the Clyde
Greenock to Greenock
Tuesday 8th March to Tuesday 15th March 2022
From £3,040 per person
7 nights including
2 Gala Dinners
Against spectacular scenery, step into the past at some of Scotland's finest stately homes. Scotland is a unique treasury of houses and castles, spanning a long and turbulent history against haunting landscapes that evoke mystery and romance. Travel back through time on Hebridean Princess to some of the country's most priceless architectural gems.
*This cruise also departs on 1st November 2022
Book this cruise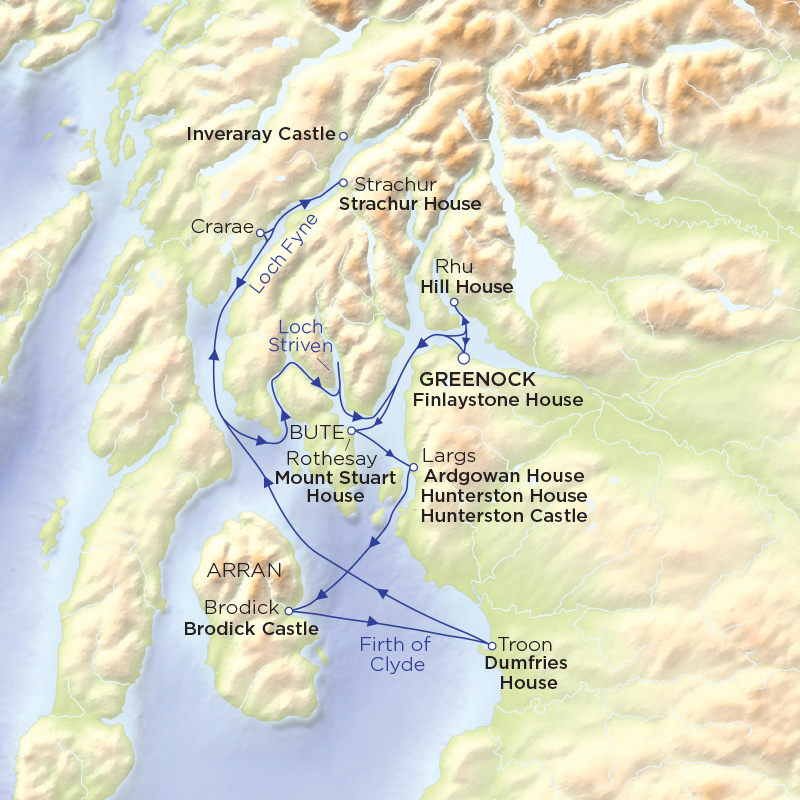 Itinerary
Decks & Cabins
Contact Us
See our itinerary below...
Below you can explore the itinerary for this cruise. Click on the arrows to see more information on each days itinerary. Simply click the 'Book this Cruise' button to get booking and embark on an exciting journey with us…
Guest Speakers Michael Davis & Charlotte Rostek
Michael Davis researches, writes and lectures on architectural history and conservation themes, and is a visiting lecturer at the University of Strathclyde. He spoke out in favour of reconstruction of the original design during the controversy over the restoration of Glasgow School of Art, and is a past chairman of the Architectural Heritage Society of Scotland. His books include The Castles and Mansions of Ayrshire, Scots Baronial and The Scottish Castle Restoration Debate.
Charlotte Rostek works with the Fleming Wyfold Art Foundation and with Buccleuch Estates, and is the former Collections Director at the Mount Stuart Trust on the Isle of Bute, responsible for the caring, development and promotion of the Bute Collection. She is also Curator Emeritus at Dumfries House reflecting her deep involvement as inaugural curator with the stately home which was saved for the nation by Prince Charles in 2007. Charlotte lectures widely and has a passion for engaging people with art and culture.
Our decks and Cabins
Below you can see our decks and what cabins are on each of them. If you click the arrow you can see further information on each cabin and what it has to offer. So get exploring and get booking. We look forward to you joining us on board for an experience of a lifetime…
CONTACT US
Please feel free to get in touch with us if you have any queries regarding our Cruise or booking. We would be delighted to hear from you and help you on your way to enjoying a wonderful cruise with us...