21 February 2020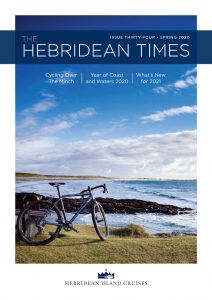 The first edition of The Hebridean Times in 2020 brings you up to date with all the latest news from on board Hebridean Princess and ashore at Hebridean Island Cruises.
In a few days time, Hebridean Princess will emerge from her winter re-fit and set sail from Greenock on the Clyde to commence her 32nd season. Over the winter, our engineers and deck crew have been busy undertaking essential maintenance and ensuring all is in full working order, whilst our housekeepers and hotel staff have been hard at work cleaning and polishing the front of house areas in readiness to welcome our first guests of the year.
Although our 2020 season is about to commence, we are already looking forward to next year and our 2021 Cruise Collection on board both Hebridean Princess and Royal Crown. We always strive to keep our itineraries fresh and exciting to tempt new guests to experience the delights of a Hebridean cruise, whilst also introducing new destinations and themed cruises for the many loyal guests who cruise with us regularly. A sneak preview of what's new is included on page 12.
Our crew news focuses on the retirement of David Indge as Chief Purser on board Hebridean Princess, but for those who would love the opportunity to sail with Dave one last time, don't worry, as he will accompany all the European river cruises on Royal Crown which are featured on pages 10 and 11.
I do hope you enjoy this edition of The Hebridean Times and that we have the opportunity to welcome you on board Hebridean Princess or Royal Crown for a memorable and relaxing holiday very soon.
You may also be interested in...