9 December 2021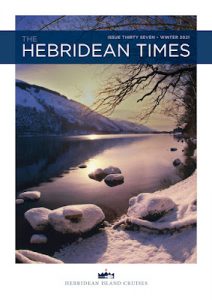 As another season draws to a close, I should like to take this opportunity to update you with all the latest news from on board and ashore at Hebridean Island Cruises in the winter edition of The Hebridean Times.
We recently launched the 2022 Cruise Directory for our brand-new vessel, Lord of the Highlands, and have been overwhelmed by the response. Carrying just 40 guests, Lord of the Highlandssets sail in April next year and will cruise the inland waterways of the Caledonian Canal in elegant style. Our hand-picked crew will extend the warmest of welcomes and Hebridean's unique relaxed house-party atmosphere ensures that a cruise on Lord of the Highlands provides the ideal escape.
As we look towards next season, our eagerly anticipated cruises on board Hebridean Princess to the south coast of England, northern France, Belgium and the Channel Islands are proving to be extremely popular, with the Channel Islands Explorer itinerary already fully booked. You can learn more about our Scenic South West cruise in this issue, why not join us on this enticing voyage for a magical, unforgettable experience?
Our 2022 European River Cruises on board Royal Crown are also selling fast. With enriching guests speakers on each Hebridean river cruise to bring each itinerary to life, discover the tranquility of the Dutch and Belgian waterways, the romance of the Rhine, the majesty of the Main and the delights of the Danube.
With very best wishes for a wonderful festive period.
Ken Charleson
Managing Director
>> Read the Winter Edition of The Hebridean Times here
You may also be interested in...