27 November 2020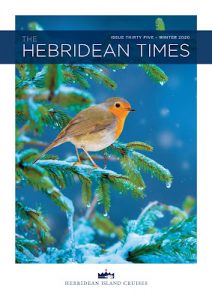 The winter edition of The Hebridean Times is now available to view online. The latest issue is filled with all the latest news from Hebridean Island Cruises, including the expansion of our fleet with the acquisition of MV Lord of the Glens.
With all sailings paused until early 2021, in this issue we share our new health protocols for when we take to the seas again. With our enhanced health and safety measures you will still be able to enjoy the holiday you dreamed of.
Captain Heaton gives us an insight as to what on board life has been like during lockdown with only a skeleton crew, and a number of our guests have shared the creative ways in which they have been keeping alive their fond memories of Hebridean cruises.
Our cruise focus features Historic Houses and Castles of the Clyde and our new 2021 European River Cruises offer two enticing itineraries on the romantic Rhine and tranquil Moselle, with the opportunity to combine the two into a stunning, extended Grand Voyage through the heart of Europe.
With very best wishes for remaining safe and well over the Christmas season.
Ken Charleson – Managing Director
You may also be interested in...