21 February 2020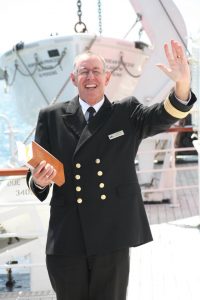 "Ladies and Gentlemen!
Dinner is now served in the Columba Restaurant.
And, don't forget, whatever you choose – ENJOY!"
Just one of the memorable and heart-warming announcements made by the exuberant Chief Purser, David Indge, who, after 14 years of working on board Hebridean Princess and entertaining guests, has decided to retire from the role in order to spend more time with his wife Pat and enjoy time in the garden.
Of his time on board, David said "I have met many wonderful people and have worked with the most dedicated and committed team you could ever imagine. I shall miss every one of them dearly."
He added "although guests will no longer see me on board Hebridean Princess, both Pat and I shall continue to oversee Hebridean's European river cruise programme on board Royal Crown and I may occasionally find myself back on board "'HP" as relief Chief Purser".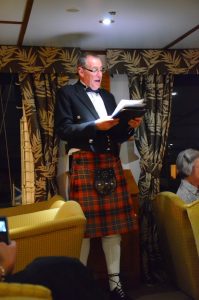 David will be so fondly remembered for his after-dinner stories and jokes, which have had so many people in tears of laughter over the years.
Not only has David been such a familiar face to so many of Hebridean's guests, he also found fame on the More 4 television programme 'Richard Wilson's Highland Fling', when he was interviewed by the veteran actor, Richard Wilson himself, responding to each question with huge enthusiasm and humour.
Thank you David, for all you have done with such dedication. We will all miss you enormously, but please don't forget to leave your joke book on board!
You may also be interested in...