11 March 2021
With beauty waiting at every port of call, there is always plenty to explore on a Hebridean Princess holiday.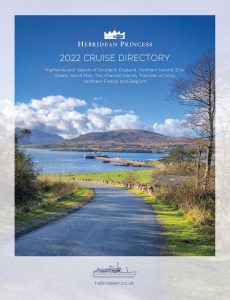 Explore the majesty of the British Isles, or perhaps the intriguing coast of northern France and Belgium, in the elegance and luxury of a Scottish country house.
Britain's wonderful wildlife and natural beauty mean that being a tourist in your own country can be genuinely enlightening, with the chance to experience something new every day; or perhaps enjoy the total relaxation of doing nothing at all. Whichever you chose, cruising Hebridean style isn't just about the destinations we visit, but about the experiences you will enjoy as part of the journey.
Discover the excitement of visiting secluded ports out of the reach of larger ships, whilst indulging in truly personal service where everything is included.
The 2022 Hebridean Princess Cruise Collection sees this multi-award-winning ship embark on 38 extraordinary cruises around the British Isles and the contrasting coastlines of the English Channel, offering endless opportunities to get close to local culture and reveal hidden gems. Old favourites, such as the Captain's Surprise and Flavours of the Hebrides are included, together with a brand new golf cruise which visits the spectacular Royal Portrush Golf Club in Northern Ireland, and our ever-popular series of voyages to the south coast and near continent have the added the excitement of cruising the River Thames to Tower Bridge.
When you are ready to discover the world of Hebridean Princess, she will be ready and waiting.
You may also be interested in...