22 April 2021
We are delighted to release our 2022 European River Cruise Collection on board
Royal Crown, a bespoke selection of relaxing itineraries which will transport you to
the very heart of the continent.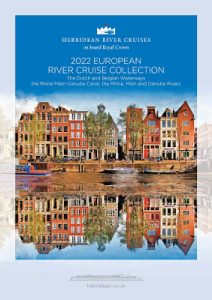 Offering wonderfully varied and meticulously planned itineraries on the tranquil Dutch
and Belgian waterways, the romantic Rhine, the majestic Main and the delightful
Danube, Hebridean River Cruises will take you on a voyage of discovery to fascinating
destinations full of history and intrigue.

With 1930's style, plus an uncompromising level of service and standard of cuisine,
Royal Crown echoes Hebridean's wonderfully relaxed style of cruising and house party
atmosphere. With a maximum of just 70 guests, our handpicked Hebridean Team
accompany each cruise to ensure your experience is unforgettable and exceptional with
their meticulous attention to detail.

Itineraries are enriched by renowned guest speakers, and to add that extra special
ingredient, each of our 2022 cruises feature a 'Hebridean Gem' – a truly unique and
exclusive experience to add an extra dimension to your holiday and leave you with
amazing memories to treasure.

Unlike most other river cruises, a Hebridean river cruise is fully inclusive and our
carefully thought out flight and rail options make joining and departing the ship as stress
free as possible. Not only are the travel arrangements included in the cruise fare, but
you will be accompanied by Hebridean's own representatives, meaning that you can
relax safe in the knowledge that you are taken care of from the very start to the very
end of your cruise.

With attractive fares and a renowned reputation for making single guests feel instantly
at ease, Hebridean is the ideal choice for the solo traveller.

All of our 2022 cruises have been designed to offer the opportunity to combine cruises
with the minimum of repetition, presenting guests with a selection of stunning,
extended voyages that discover the very best of what Europe's majestic waterways have
to offer. For the first time you can cruise with us across the entire continent, on our
ultimate Grand Voyage from the North Sea to the Black Sea, and discover Europe's
greatest treasures as well as hidden gems.
We look forward to welcoming you on board.

With just five enticing itineraries in 2022 demand is expected to be high and all bookings made before 7th May 2021 will qualify for an early booking saving of 10% on the published cruise fares.

In addition, if you have previously sailed with Hebridean Island Cruises, you will receive an
exclusive loyalty saving of 5% on the fares shown.

To make you reservation please call our experienced reservations team on 01756 704704.
They will be pleased to answer any queries you may have regarding the itineraries, travel options or life on board. Alternatively, send an email to reservations@hebridean.co.uk
You may also be interested in...